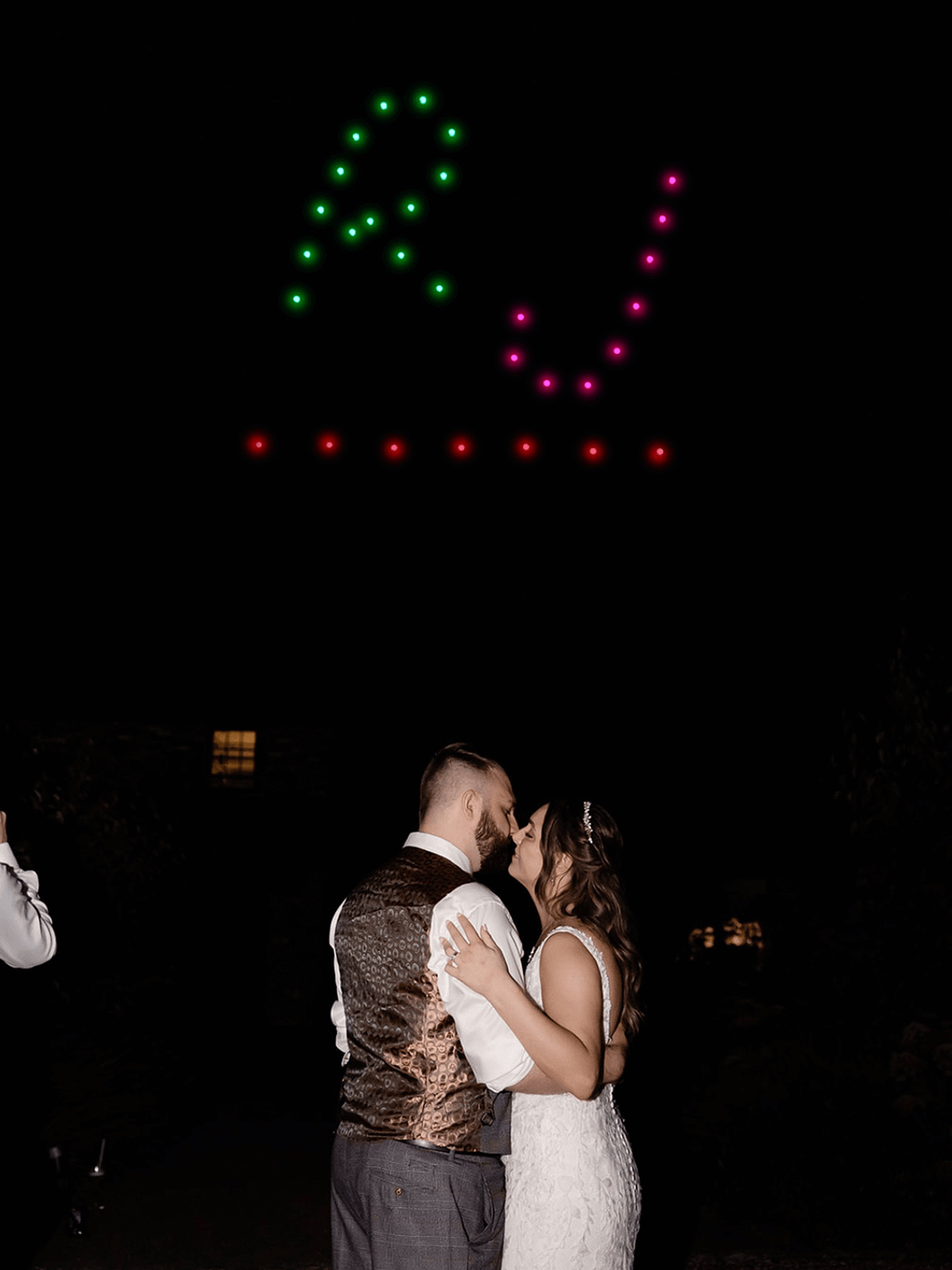 Fall in love with a Drone Light Show!
Make your wedding day even more unforgettable with a captivating drone light show. Our wedding shows are designed around the theme of love and marriage, featuring shapes such as hearts, champagne glasses, and wedding rings. Adding this magical touch is the perfect way to create even more memories that will last a lifetime!
Our wedding packages are all-inclusive, ensuring that your wedding drone show is nothing short of magical. We take care of everything, from sound to security, so that you can fully focus on your special day.
Wedding Drone Show Packages
We have two wedding package options available to suit different budgets, starting at just £7,500 for 30 drones or £9,500 for 60 drones. 
Looking for something more? We offer completely customised packages from £25,000.
30 Drone Wedding Show - £7,500
60 Drone Wedding Show £9,500
Looking for a way to make your show truly unique?
Our customisation option allows you to add a personal touch with lettering at the end. Imagine your initials lighting up the sky, creating a one-of-a-kind experience for all to see.
Customisation for both our 30 and 60 drone shows is only £500!
For a drone light show to be performed safely, it is vital to secure the area under the drones and maintain a 50m safety buffer from the audience. The Secure Area does not have to be clear of trees, but the Show Area must be level and free of obstructions. We require a total secure space of 130m x 150m.
Not sure if a show fits at your venue? Submit your wedding venue using the form below, and we will assess the available space.
The Flightshows team provided the drone lights show as a surprise at my daughter's wedding. It was a truly magical show and everyone was amazed, it was even better than I'd imagined. The team have been fantastic and a delight to work with right from the first enquiry, they guided me through the whole process and made it very easy. As it was a top secret mission that only I knew about the team had to set up without being seen, not easy at a wedding full of guests, but the team were brilliant and even I struggled to find them. I really can't thank them enough for all their hard work. I would highly recommend this show to anyone looking for something magical at their wedding."
We hired George, Eoin and their team from FlightShows for a drone show at our wedding and it was a dream! Unfortunately our wedding venue didn't allow fireworks as it was on a working farm. Turns out that was great news! The drone show was better than any firework show could have been! The team were really accommodating to our needs from music choice to always being quick to reply to any messages. We would have a wedding again just to hire these guys!
Please fill in the form below and we will book in your wedding drone show!